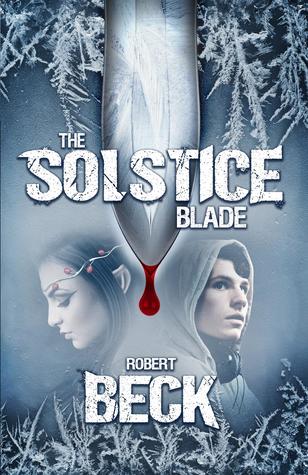 Reviewed By Steve Parkes
Bald Mage Rating 7/10
I would like to thank Robert Beck for sending two signed copies of his book for me and Keith to review!
"Bigger problems than being hunted by a bunch of crazy dudes and their pack of mad dogs, on a Christmas day-out from fairyland" said Travis incredulously, "I would seriously love to hear how we can have bigger problems than that!"
I want to start by saying this was a really good light read after all the epic historical novels that I have been reading lately. I found myself breezing through the book at a decent pace and it's mainly because of the fact that it's just good plain fun.
The book starts with an interesting prologue, then we are thrown into contemporary Cornwall during the winter and we have three boys shopping for Christmas presents for their parents. The three boys, who are brothers, Travis, Liam and Evan stumble across a second hand shop where upon this adventure really kicks off.
There are some moments that really took me back to when I read The Lion, The Witch and The Wardrobe and this book at the start had the same effect on me with the boys finding themselves in a strange situation. I loved the snow during this book and how it's so thick that the boys get lost pretty quickly mainly because of the fact they can't see a thing.
Obviously the book centres around the Solstice Blade which the boys have, this leads to an emerging of another world where the boys meet the beautiful Celyn who is a fairy and she is being pursed by the Wild Hunt! The author uses his knowledge of Cornish Folklore to good effect during the novel and there are many mythical elements to keep you entertained.
Travis really stuck out as the hero type during the book; being afraid but leading by example to his brothers, he really does do a lot of courageous things during the book that make you feel proud of him. The other brothers are interesting as well as they deal with the dangerous situation they found themselves in.
I found the Wild Hunt and how it was formed to be one of the best elements during the book and I did feel sorry for them and their predicament they found themselves in, by the end certain things happened that made me look at them in a different light.
Celyn was an interesting character as she helps the boys during this stressful time and there are some amusing scenes with her not knowing certain things; such as mobile phones and so on. The boys do get attached to her and there is genuine sadness at the end when this adventure comes to an end.
Overall I enjoyed this book it was light, fun, fast paced and used folklore and the winter solstice to great effect. Now I'm going to have a flagon of beer with my good friend the Lord of Misrule!
Keith Brady's review coming soon.